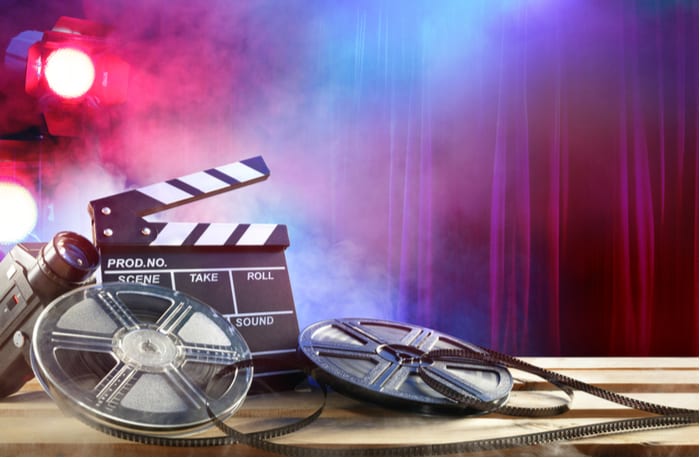 From 1932 right into the 80's amateur videographers and home movie enthusiasts have commonly used Standard 8mm and Super 8 film. There have been many amazing documentaries, narrative film as well as historical pieces that have all used the much-improved Super 8 film. Super 8 was created to have smaller perforations that allow a larger image to be developed. It also recorded sound.
The revolutionary handheld cameras that held Super8 film changed the way that media by the masses was recorded and viewed by others. Dreams became reality for amateur filmmakers to take their visions and an inexpensive camera and produce a film. Some were fantastic… others maybe a little crude. But nonetheless, filmmakers were born! All of a sudden, a family on vacation became journalists when they captured something newsworthy accidentally while filming their families adventures!
The following are a list of films shot entirely or partially on Super 8mm film. Some you may recognize, and by no means are we advocating that they are all Oscar worthy! I am certain there are thousands of amazing home movies that never saw audiences past their directors, friends and family. But these are fine examples of how 8mm film changed the way we see films today!
The Zapruder Film (1963)
The Zapruder film was a silent 8mm motion picture recorded by Abraham Zapruder as the US President John F Kennedy's motorcade passed through Dealey Plaza in Dallas Texas. On that historical day; November 22 1963, Zapruder unexpectedly captured the presidents assassination. Although there were other films that recorded the shooting, this film has been described as the most complete, offering a relatively clear view on the side where the presidents fatal wound was present and was a crucial part of the investigations of the assignation. It is also one of the most studies pieces in film history!
Firelight (1964)
In 1964 a then unknown Steven Spielberg at the age of 17 made one of his first science fiction adventure films called Firelight! Created on a budget of five hundred dollars, this film was shown at a local cinema and generated a profit of $1. In 1977 Spielberg revisited its subject matter for his third major film Close Encounters of the Third Kind.
A Symphony of Sound (1966)
A Symphony of Sound Directed by Andy Warhol portrays a rehearsal of The Velvet Underground and Nico at The Factory in New York City. The film was intended to be shown at live Velvet Underground shows during setup and tuning. It is essentially a long improvisation which includes some private conversations and a brief visit from the NYPD.
The Punk Rock Movie From England (1978)
The Punk Rock Movie offers a revealing look into the London Punk Rock scene of the late 70's. It also offers a peek backstage and the lives behind band members of some of the most influential punk rock bands of the time. Includes performances by Sex Pistols, Siouxsie and the Banshees, Eater, The Clash and others. Most of the bands were filmed at the Roxy Club in London. The film became a document of some amazing music but also of the personalities, the attitude, the fashion and the fads that came to define the meaning of the word "punk."
The Angelic Conversation (1985)
Shakespeare's sonnets are recited by an unseen woman as a man seeks his heart's desire. The photography is stop-motion, the music is delicate, and the scenery is often celebrating the elements; boulders, smaller rocks, the sea, smoke or fog, and a garden. The man is on a voyage following his love. But he must first, as the sonnet says, know what conscience is. So, before he can be united with his love, he must purify himself.
Curse of the Queerwolf (1988)
After being bitten by what was thought to be a transvestite, The main character, Larry begins to have nightmares about hillbillies and old gypsy women. He also begins to have the strangest reactions to full moons!
The Manson Family (1997)
Outside of Los Angeles, on a ranch, the dream of the "Love Generation" is beginning to transform into something evil! If you thought you knew the story of the Manson Family, you might be dead wrong! What at one time was the home of free love and tripping out on popular drugs has become ground zero for paranoia of a mad man. You have seen the story through the eyes of the law. Now witness it through the eyes of The Manson Family.
Year of the Horse (1997)
This film documents Neil Young (a Canadian American singer-songwriter, musician, and activist). and Crazy Horse's 1996 concert tour. Jim Jarmusch interviews the band about their long history, and we see backstage footage from the 1970s and 1980s.
8mm (1999)
In this star-studded cast of Nicolas Cage, Joaquin Phoenix and James Gandolfini a small, seemingly innocuous plastic reel of film leads surveillance specialist down an increasingly dark and frightening path. A relentlessly bizarre trail of evidence leads to determine the fate of a stranger. As his work turns into obsession, he drifts farther and farther away from his wife, family and simple life as a small-town private eye.
Its About You (2009)
This film depicts the personal journey of singer/songwriter John Mellencamp. It was made during his summer 2009 tour with Bob Dylan and Willie Nelson. Mellencamp also recorded his new album in three historical locations during the month and a half tour. The story is told through the eyes of the father/son film making team, neither of whom had ever made a film before. The entire 90-minute film is shot on super8, to stunning effect. This is not a retrospective film with interviews, it is in the moment.
Super 8 (2011)
Produced by Steven Spielberg and set back in 1979, a group of friends living in a small town in Ohio witness a catastrophic train crash while filming a super 8 movie. They soon suspect that it was not an accident. Shortly after, unusual disappearances and inexplicable events begin to take place in town, and law enforcements attempt to uncover the truth. Uncovering the truth reveals something more terrifying than any of them could have imagined.
Sinister (2012)
Ethan Hawke stars as a washed-up true crime writer who finds a box of super 8 home movies in his new home that suggest the murder that he is currently researching is the work of a serial killer whose legacy dates back to the 1960s